School Holiday Camp Parents Notes:
A STEM immersive experience for primary school students; enrolled children will:

Get a free 1 of Mug displayed below, please choose your desired option during submitting enrolment form:

| | | |
| --- | --- | --- |
| Option 1: ROBLOX Wraparound Mug | Option 2: ROBOT Wraparound Mug | Option 3: Python Wraparound Mug |

Learn about the EV3 Robots machine's components, parts and sensors. They will learn about the mechanical engineering behind EV3 Robots
Learn to write code Lego Mindstorm Advanced Robots
Work in workshops and experiences where children will be engaged in experimenting with mechanical and coding aspects of robots
Experience and extend their learning on Robots and Sensors and all experiments are included that enable them to detect obstacles, move objects, grab & release, follow lines, turn by precise angles, read colours and act accordingly, detect colours and stay inside a colour box and many other challenges.
Learn on classroom Programmable Drones essentials and will be taught face-to-face to fly and code drones in an indoor planned challenge for students which will help students to connect STEM learning with real-world problems.
Gain knowledge on coding, design and robotics platforms to work in teams to solve technical challenges
During workshop:
Children will be divided into groups based on age and ability. Each group will be engaged in provided challenges and will work together under instructor supervision and guidance. EV3 machines will only be programmed by Grade 2s, Grade 3s, and above.
All materials and devices, including laptops and EV3/ Robots machines, will be provided during the session. Children are only required to bring their own food and water for the day.
Parents are requested to declare any allergies or medical needs during registration and not send any NUTS/ CHEESE products to children's lunch/ snack boxes.
Children will NOT be taking any of electronic equipment, drones & robots home.
If you have any queries or complaints about our Privacy Policy please contact us at:

STEMBuddy Coding & Robotics Education
info@stembuddy.com.au
+61 416 662 756
Build and program your own robot at this interactive hands-on party!
10% Off on Your Kids Birthday!
Book Your Robotics & Drones Party Today!!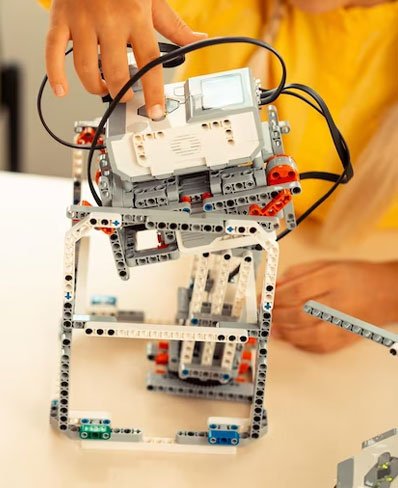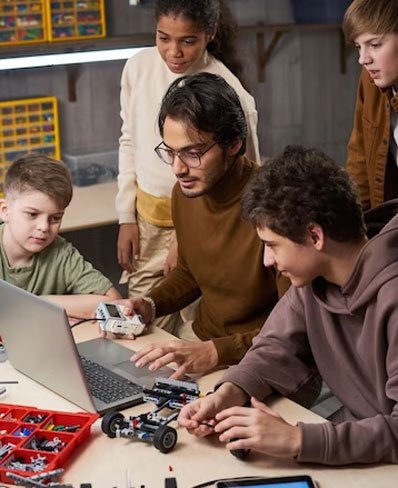 What
Parents & Students


Say About Us
Both programs provided positive feedback regarding your workshops and stated how the children were completely engaged with the activities provided and enjoying themselves, which is a great outcome! The educators appreciated how you adjusted the activities between the older and younger groups. So a big thank you as the workshops were successful, engaging and fun!
Sarah
Kingston Council OSHC/ Holiday Program
My 9yrs old son doing robotic coding with Ash. My son loves to learn coding with him. His teaching is so professional and passionate. My son really enjoyed with this coding program. Highly recommend:)
StemBuddy is a small outfit running focuses programs for kids to introduce them to the world of programming and robotics. Ash is really good at what he does. He's very understanding to individual needs. He finds the right way to motivate kids and keep them interested. Well done. We will be sending out kids there for sometime.
Thanks STEMbuddy team for the wonderful initiative, I believe kids loved it.
Children were engaged and enjoyed learning online. It was absolutely a excellent workshop and trainer was so polite and helpful during this workhop, as it was a online workshop and require lots of patience with young ones. Highly recommended this coding workshop!
My both children liked workshop organized by stembuddy coding. it was interactive, innovative and lots of learning for children. Highly recommended!!
My child kabir really liked EV3 ROBOTS and software. Instructor used open communication and customised approach to teach coding, really helped my kiddo learning computer programming. Innovative learning. All the best Highly recommended :)
My son was super excited and engaged over 10 days online holiday code camp program. Communication was excellent and trainer was so friendly and supportive. My son really liked it and enjoyed this workshop. Now every day my son creates and show me some program what he made on computer. Highly recommended.
It is great learning for children on Programming Robots. My son liked Scratch software. Instructor used open communication and customised approach, really helped my son learning computer programming. Highly recommended
I myself a teacher and Stembuddy coding classes instructor is knowledgeable and politely interacting with children. Also, best part is their curriculum is aligned with victorian curriculum, children learnt about basic programming structures and how to use software to make programs and solve problems, worked around literacy, maths and practical scenarios. It was wonderful and extremely organized coding classes for primary school children. I would recommend Stembuddy coding for children who are really interested in learning about programming and robotics.
My daughter who is in Grade 3 learnt Scratch programming. She enjoyed a lot learning programming at this age. After she got training with stembuddy, she feels confident making her own programs and share it with me. It was nice study material has been provided to children to follow instructions and make programs. I am looking forward to enroll her in a class room based learning when they start again in council library.
My son attended a coding class via Zoom. Ashish was very patient and provided great content . We will be looking forward to normal face to face classes restarting so we can take another class!
My Son loves the sessions and the Educators .He can ask questions about anything that he is not sure of confidently . They are challenged with extra resources in order to get a better understanding. It's definitely value for money with good quality program. I'm more than happy with my son's progress .
My son studying in Year 1 and he learnt Scratch Jr during this online workshop. He really enjoyed this workshop and time he spent on computers programming. Now he can make his own game and program it on his own way with the help of Scratch Jr software. He wanted to do further coding programming and wants to experience robots what stembuddy has. I will wait for face-to-face classes when it will open in Melbourne.
My daughter attended online workshop and she really liked it and learnt Scratch Jr software to make coding. Now she is able to make her own games and stories in Scratch Jr. She spent a good time learning something productive which will help her to learn future computer languages. My daughter really liked this online workshop. I would like her to join stembuddy's classroom based workshop again, when they they will schedule in near future. I would recommend STEMBUDDY for children or schools who really interested to learn programming and experience about robotics in early years of schooling. Thanks to teacher from Allegra.
Well planned and set out weekly coding classes which children find engaging and fun. Homework is provided which includes a couple of coding exercises to review what was learned in class. Ash communicates well with the children, finding fun ways to challenge them to find solutions to their coding exercises whilst patiently helping along. Parents queries are answered promptly.